Thank You for Your Interest In The Mazda3
Please know that your business is very important to us and feel free to continue your experience with us by clicking on a button below:
Get Pre-ApprovedValue Your Trade-InSearch Inventory
What can I expect when I arrive at Sport?
Upon arriving at Sport Mazda, one of our friendly, non-commissioned Mazda Experts will greet you and check your VIP appointment status. If you have a VIP appointment, CONGRATULATIONS, you have a fast pass for your sales experience! Wait outside, in our showroom, or in our comfortable VIP Lounge while we notify the correct Customer Service Specialist to assist you. Plus, there is a great chance the vehicle you inquired about will be parked in front, gassed up, detailed, keys ready, and waiting just for you.
We understand that every customer has different needs and could be at any phase of their shopping experience. For this reason, one of the first questions you will be asked is "what would you like to accomplish during your visit today?" Our team members are trained to assist you wherever you may be in your vehicle shopping process. We also realize that some visitors have already spent countless hours online researching the right vehicle and may have different needs than those learning about our store in-person for the first time.
Once inside, you will notice that we have an "open" sales floor with all sales managers conveniently in close proximity and in plain view of our customers. No games, secrets, or tricks that have earned dishonest dealers their reputation. Our goal is to be transparent, open, and friendly. We are here to enhance your online-to-showroom shopping experience, not get in the way of it! :-)   Jay Mealey

PS. I can be reached via email at JayMealey@gmail.com or my cell at 321-436-3620 if you have any questions or feedback about your in- store visit. As the #1 rated Mazda store in the country, my goal is to under promise and OVER deliver. If we don't accomplish this – I WANT TO HEAR ABOUT IT. I have an open door policy and check my email and voice mail regularly.
For more about what you'll see when you visit Sport, CLICK to take a tour with our president and owner, Jay Mealey: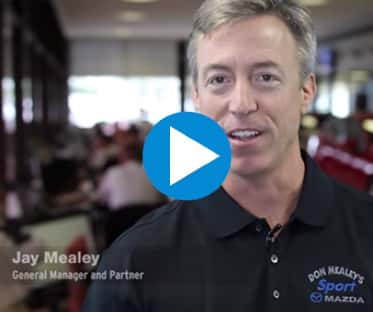 See our dealership at all angles :) Take a Self guided – 360 google tour of our dealership: