2015 Mazda3 Specs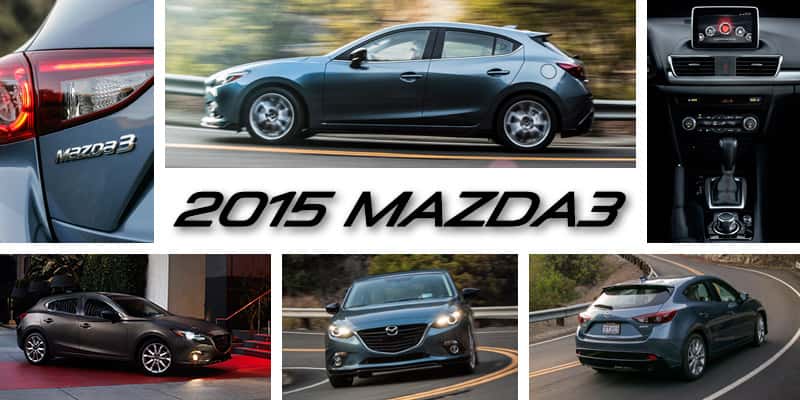 "First and foremost, the Mazda3 is a great choice for any compact-car shopper who enjoys driving. Strong acceleration, sharp steering and a well-tuned suspension make the 3 truly come alive when you want it to, even if it's just zipping around town." -Edmunds

The 2015 Mazda3 is what is possible when you start with a blank sheet of paper and never stop until you've created something spectacular. The new design that has taken the car world by storm, a stylish, nimble vehicle that's as light and strong as it is technologically advanced and beautiful. Industry experts in review after review have named this car the "Class Leader" in styling, performance, and economy. Driver's are excited with the great handling, interior room and comfort, unequaled entertainment features, and a wealth of new SKYACTIV technology that makes this the safest Mazda ever.
Exhilaration has always run in the Mazda3 family. And now the driving experience is even better. By engineering the Mazda3's core systems such as the powertrain, chassis and body with SKYACTIV technology, we improved the Mazda3's already excellent performance and handling. Amplifying the exhilaration is the precisely tuned 4-wheel independent suspension system and your choice of a spirited 2.0-liter or sporty 2.5-liter SKYACTIV-G gasoline engines, with the 2.5-liter pulling off 184 horsepower. Also helping to make your drive nimble and responsive is the Mazda3's Electric Power Assist Steering that allows you to maneuver with better accuracy, while Dynamic Stability Control helps your wheels grip the road during quick turns.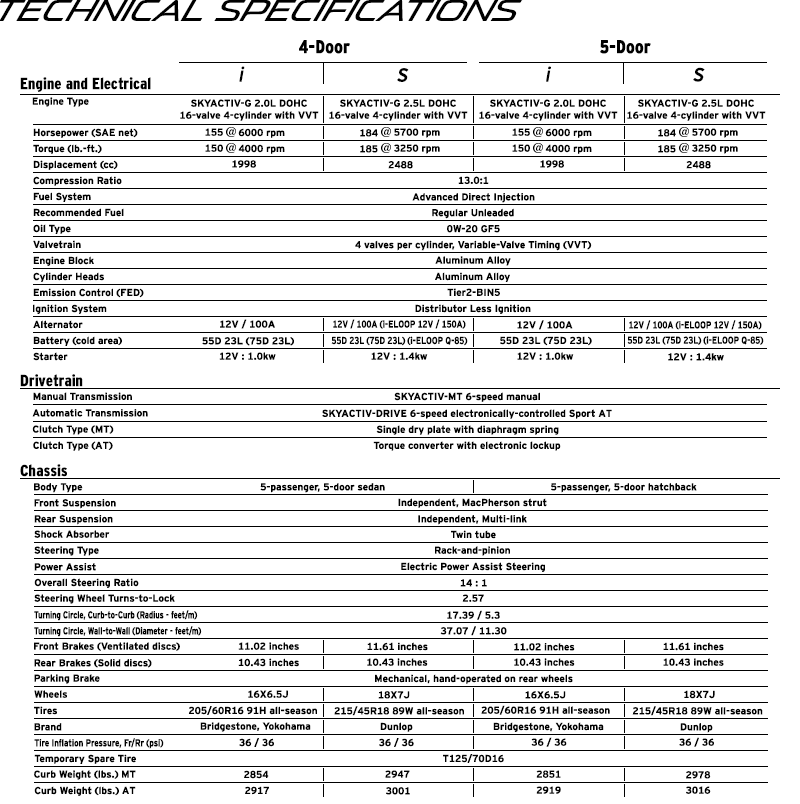 "Things only get better inside, where the Mazda3's cabin nearly gives luxury brand compact cars a run for their money." -Left Lane News (2014)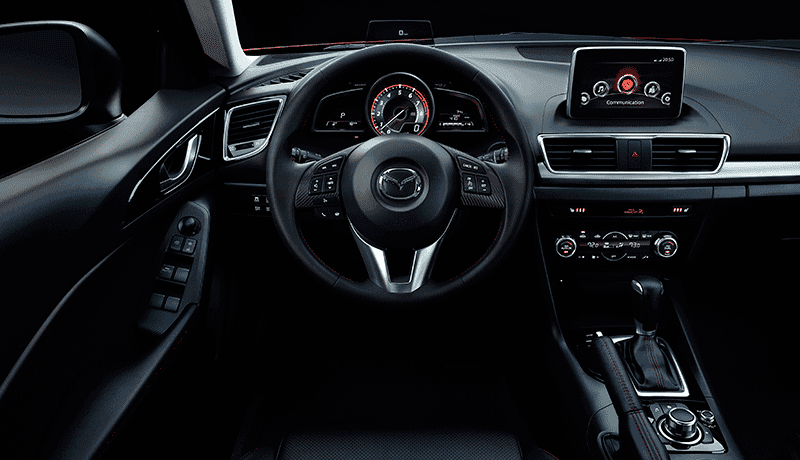 For our Mazda engineers, creating a car that's sporty, practical and exhilarating to drive simply wasn't enough. They wanted to enliven the driving experience from the moment you open the door.
To create this new level of connectedness, the center gauge lights up and pulsates like a heartbeat when you enter the cabin. When you use the push button to start the engine, the side gauges also illuminates while they available Active Driving Display rises to greet you. Even the Mazda3 cockpit is built to keep you connected. Designed around a theoretical vanishing point that's forward focused, it helps keep you attention on the road ahead. Just another reason why everything about the Mazda3 is exciting, alive, and completely connected.
The Mazda3's interior appointments offer a level of distinction that doesn't exist in comparable affordable compact cars. We used high-end materials and refined surface treatments such as the satin chrome finish on the climate control knobs and the new carbon fiber-look meter hood. The streamlined dash design and instrument panel give the driver and front passenger better visibility and a feeling of spaciousness typically found in luxury vehicles.
Our most technologically advanced Mazda is also equipped with our most technologically advanced cockpit.
With available Mazda CONNECT, our next-generation infotainment system, you get a host of social media, entertainment, communication, and information options. All you have to do is pair your smartphone with the Mazda3 via Bluetooth wireless connectivity to stream music or access media apps such as Pandora, Aha, and Stitcher. Control the system and view information on your available 7-inch full-color touch-screen display. Also enjoy access to standard USB or auxiliary audio input ports and an available factory-integrated navigation system with cutting-edge features such as voice command and advanced lane guidance. All the functions displayed on your touch-screen can also be operated with the available multi-function Commander Switch, conveniently located at your fingertips on the center console.
And even with all those options, we still help you keep your eyes on the road.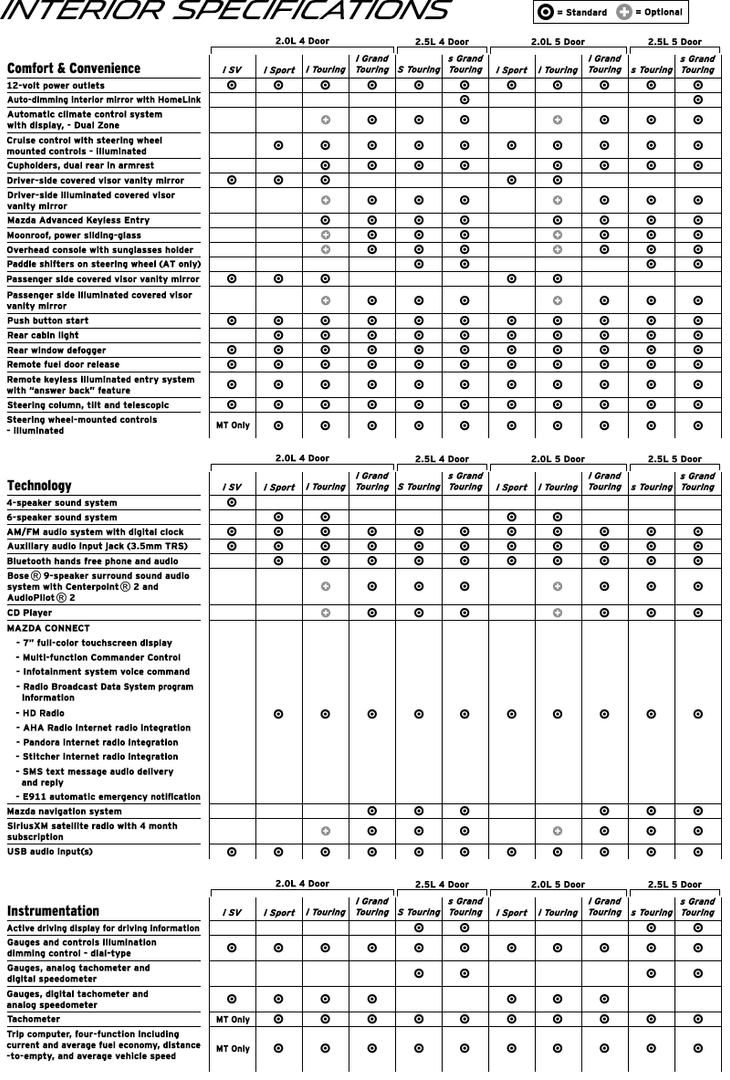 "…if you want great driving dynamics and a complement of hitherto-unobtainable advanced technology reserved for the most sybaritic of luxury cars, the Mazda3 is well worth the look. It certainly looks like it's worth it." – AutoWeek

Versatile. Nimble. Striking. The Mazda3 is all of these things.
It's the culmination of courageous engineering, creative design and the fearless conviction to achieve the impossible. Designed by perfectionists for perfectionists, our engineers built the Mazda3 with premium KODO design sensibilities inside and out. And more advanced safety innovations than any other car in its class. It's loaded with available high-end features and next-generation innovations, along with Mazda3's legendary driving dynamics. Better than ever and as versatile as it's always been, the Mazda3 proves that one car can offer everything – all in a fun-to-drive, affordable package.
Every muscular line and refined curve of the Mazda3 embodies the dramatic expression of our KODO "Soul of Motion" design yet. Slightly lower and wider, the Mazda3's crouching stance, prominent grille and piercing headlamps make a formidable first impression. But more than just being beautiful, the Mazda3's sculpted exterior also improves aerodynamics by providing a very low coefficient of drag – a fancy way of saying that better aerodynamics equals improved gas mileage, performance and handling. It's just another example of how, with Mazda, there's always more than meets the eye.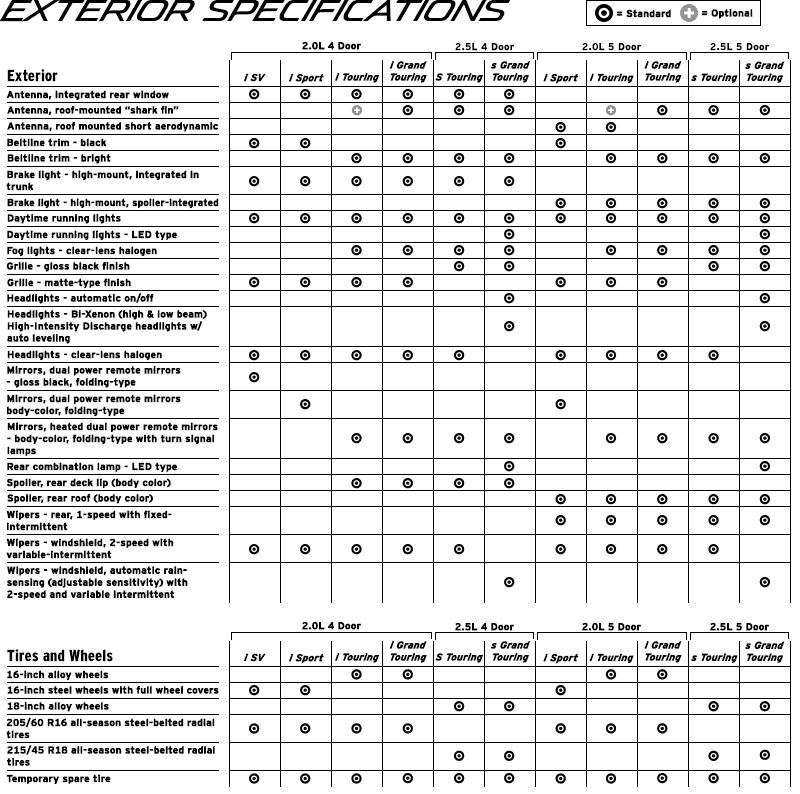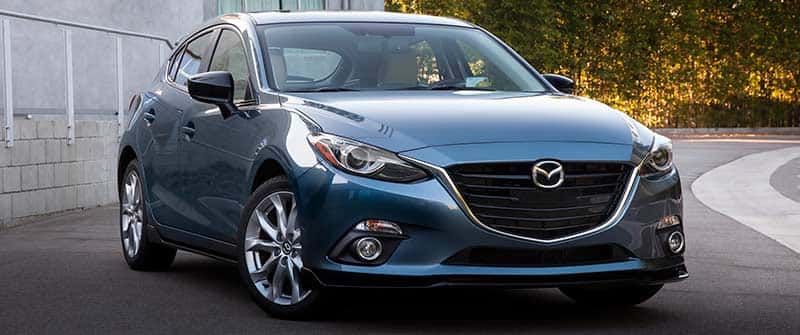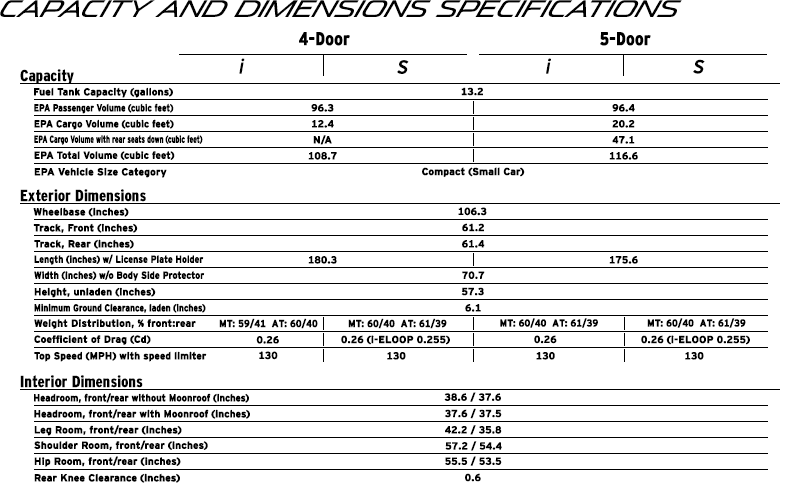 The Mazda Experts at Don Mealey's Sport Mazda are here to help make your car shopping experience as easy and hassle free as possible. If you are looking for a 2015 Mazda3, please contact the Mazda Experts today.