New Mazda6 and CX-5 Top Rated in IIHS Front Crash Prevention Test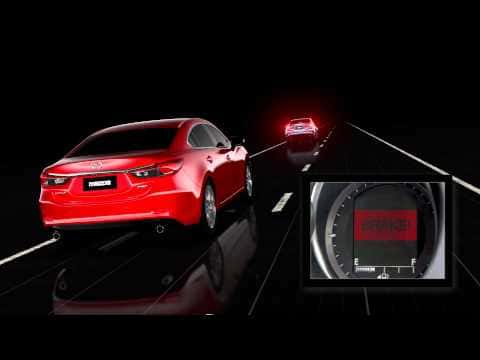 Although luxury vehicles are more likely to have optional front crash prevention. the moderately priced MAZDA 6 and MAZDA CX-5 equipped with the Smart City Brake Support have just received the highest safety ratings from the IIHS (Insurance Institute of Highway Safety). Besides Acura, BMW, and Mercedes, the only other two moderately priced cars to receive the SUPERIOR Rating were the Chrysler 300 and Dodge Charger with special equipment added.
The 2016 Mazda CX-5 and Mazda6 can both be equipped with Mazda's i-ACTIVSENSE advanced safety technologies that include active safety technologies that support safe driving by helping the driver to recognize potential hazards and pre-crash safety technologies that help to avert collisions or reduce their severity in situations where they cannot be avoided.
The 2016 CX-5 Grand Touring model features Mazda's Blind Spot Monitoring (BSM), which helps detect vehicles approaching from the blind spot areas at the sides and rear. BSM also incorporates Mazda's Rear Cross Traffic Alert (RCTA) function, which alerts the driver when it detects vehicles approaching from either side as the driver backs up.
The CX-5 Grand Touring also offers optional Smart Brake Support (SBS), which helps avoid frontal collisions or minimize damage when traveling mid- to high-speed by automatically braking when the vehicle senses an emergency ahead and Mazda Radar Cruise Control (MRCC), which automatically controls the vehicle speed to maintain the safe following distance in accordance with the target speed set by the driver. Take a look at our entire Mazda CX-5 inventory.
The 2016 Mazda6 offers a wide variety of advanced safety technologies and further strengthens safety performance. Mazda6 and its advanced safety technologies deliver greater driving pleasure and peace of mind, while adding further polish to the value offered by Mazda's flagship model. Mazda6 Grand Touring models come standard with Smart Brake Support (SBS). The Mazda6 Grand Touring's optional Technology package adds Mazda's Blind Spot Monitoring (BSM) and Rear Cross Traffic Alert (RCTA) function, among a long list of other safety-enhancing features. We invite you to view our entire Mazda6 inventory.
Both of the IIHS Superior Mazda's are available in a wide selection at Sport Mazda, 6239 S. Orange Blossom Trail, Orlando, Florida 32809. Corner of Lancaster Rd and S. OBT.
IIHS, is an independent, nonprofit scientific and educational organization dedicated to reducing the losses — deaths, injuries and property damage — from crashes on the nation's roads.
Source: AutoNews.com