NitroFill™ at Sport Mazda
Fill your tires with nitrogen for better performance.
At Don Mealey's Sport Mazda Service Center, we know that customers are looking for ways to make their cars last longer. NitroFill™ replaces the air in your tires with a refined nitrogen product that will increase the lifespan of your tires, improve fuel economy, improve ride and handling, and reduce the chance of tire failure, saving you lots of money. And now, every New Mazda delivered by Sport Mazda in Orlando comes with NitroFill™ equipped tires. Sport Mazda cares about you and your car and we are constantly adding new programs and products that will preserve the investment you have made in a new Mazda.
Just a reminder, NitroFill™ is also available for any car you own. Make an appointment and ask your Service Adviser for this cost and life savings new product.
What exactly does NitroFill™ do for my tires?
The benefits of switching from compressed air to nitrogen pay off in the long run. Nitrogen increases the life of your tires up to 30% longer which also reduces the chance of tire failure by up to 50%. Another benefit of nitrogen is that reduces running tire temperature which helps maintain proper tire pressure resulting in improved fuel economy. Additionally, you will be able to feel improved braking and handling while on the road!
What's the harm in using compressed air?
There are a few issues that compressed air can create for your tires. Compressed air is referred to as "wet oxygen" which means your tires have moisture in them which causes oxidation. Over time, oxidation breaks down the rubber in your tires creating cracks and other noticeable wear and tear resulting in air leak. Another issue with compressed air is that oxygen molecules are smaller than nitrogen and leak three to four times faster when a problem occurs with the tires.
During your next service visit, ask your service writer about switching to NitroFill™ and see the benefits immediately when you leave with nitrogen filled tires!
SCHEDULE SERVICE CONTACT SERVICE SERVICE COUPONS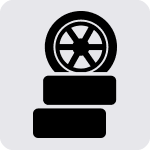 Quick Service Tip
Warmer weather causes your tires to lose pressure. Tires that are filled with normal compressed air lose about 1 to 3 pounds of pressure a month. Filling your tires with nitrogen will prevent pressure loss 3 to 4 times greater than compressed air. That's why Sport Mazda uses NitroFill™.
Join the NitroFill™ Auto Club
One of the biggest benefits of switching to NitroFill™ is that customers are entitled to a FREE one year membership in the NitroFill™ Auto Club. Problems arise on the road when you least expect it. It's always great knowing that you are covered and protected by an organization that cares. Contact the Don Mealey's Sport Mazda Service Center or visit the NitroFill™ website for complete details about enrolling in the NitroFill™ Auto Club.