Mazda CONNECT™ Infotainment System

With the driver in mind, the new Mazda CONNECT™ infotainment system is the latest in Mazda entertainment technology. Mazda CONNECT™ is designed to keep you informed, comfortable, and entertained while safely driving your Mazda vehicle and comes in every new vehicle. At Don Mealey's Sport Mazda located in the Orlando, FL area, we have helped to put many car shoppers behind the wheel of a new Mazda CONNECT™ car or SUV.
Because there are so many features in the new Mazda CONNECT™, today our Certified Mazda Experts have taken the time to explain what Mazda CONNECT™ is and why luxury technology doesn't have to mean a high price tag.

ENTERTAINMENT FOR EVERYONE
With music, sports, podcasts, and talk-radio at your fingertips every drive can be a fun one thanks to the new Mazda CONNECT™. Featuring the new Aha® Radio by Harmon you can be the DJ and make custom radio stations online so you can say goodbye to the mix-tape. Plus with over 175 channels of SiriusXM® Radio and Stitcher® Smart Radio there's a channel for everyone. And since every Mazda CONNECT™ is equipped with AM/FM Radio, a CD player, and both USB and AUX ports, you'll always have something to listen to. An optional Bose® Surround Sound package is also available if you want to take your car right into the rock concert.

KEEPING YOU CONNECTED
The new Mazda CONNECT™ is designed to keep you safely connected with your smartphone. Calls, text messages, and contacts can all be sent to your car so you never have to be out of the loop. Plus you'll never miss that important tweet or status from your favorite celebrity because you can connect Facebook and Twitter from your phone. With voice control and the command wheel your attention never leaves the road and you can safely stay in touch with your family and friends.

NAVIGATION TO GO
Navigation equipped models of the Mazda CONNECT™ feature the most up to date maps and traffic models so you always know where you're going and when you're going to get there. The means you never have to wonder "Are we there yet?" Because Mazda CONNECT™ can search destinations you always know where you can fill up your cup of coffee or your gas tank. With constantly updated information and a large 7-inch screen, your Mazda CONNECT™ shows you the map either flat or in 3D with speed limits and traffic all. Since directions are projected on the heads up display on top of the dashboard, you'll always see the next turn coming.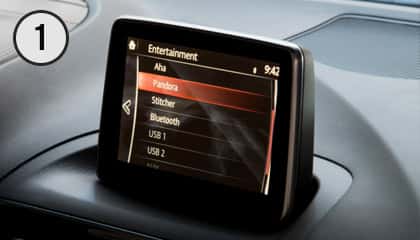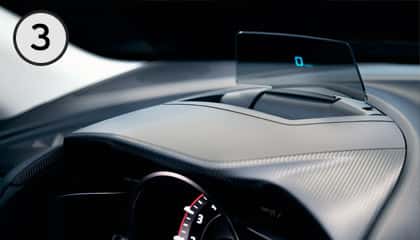 Featuring a large, easy to use, 7" touch screen (1), Mazda CONNECT™ is simple without confusing menus. The center Command wheel (2) is designed to be operated entirely by feel and keeps your eyes on the road and the active driving display (3) projects important information such as vehicle speed and turn-by-turn navigation above the dash. Not to mention that functions can be also be controlled by voice-recognition.
Even though the new Mazda CONNECT™ is easy to use, our certified Mazda Experts love showing car shoppers just how fun and simple it is to use. If you would like to know more about Mazda CONNECT™ come take a Mazda VIP test drive here at Sport Mazda. Let us know when you would like to come by and we'll have a new Mazda waiting just for you!
How to use the Mazda CONNECT