Three affordable Mazdas with standard backup cameras
Starting in 2018, you can expect to find every new car coming standard with a rearview backup camera in the United States. Safety advocates across the country pressured the United States Department of Transportation (USDoT) and the National Highway Traffic Safety Administration (NHTSA) to pass regulations requiring all auto manufacturers to step up their safety standards be enforcing a mandatory rearview backup camera.
Studies as recently as 2013 indicate that backup crashes result in nearly 300 deaths per year with an additional 18,000 injuries. This new regulation is aimed at reducing preventable backup crashes, for example children playing in driveways, while increasing overall road safety.
For the foreseeable future, manufacturers are going to be looking at introducing rearview backup cameras into more affordably priced models and trim levels. Mazda is one of those manufacturers where you can find a standard rearview backup camera in a trim level that won't break the bank.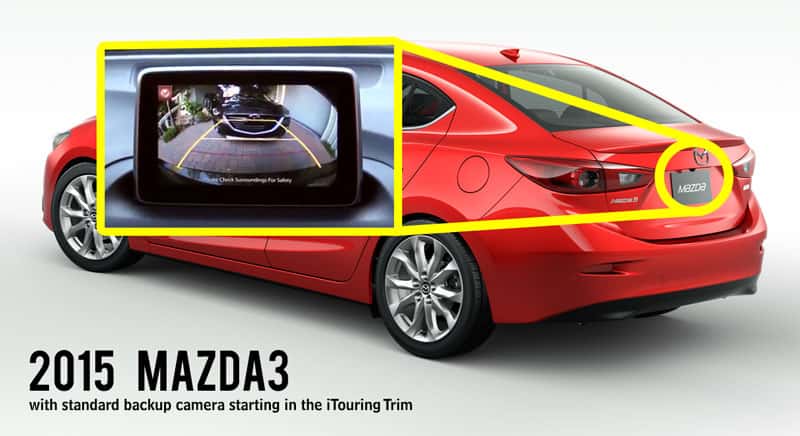 Starting with the 2015 Mazda3, shoppers have the choice of a sedan or hatchback body style which both come equipped with a standard rearview backup camera and rearview traffic monitoring which lets you see and hear if a vehicle or person is within range of the back of your vehicle. These rearview safety features come standards on the iTouring sedan (starting at $19,595) and the iTouring hatchback (starting at $20,095) trim levels.
Next up is the 2016 Mazda6 which improved the screen size of the infotainment center from the 2015 Mazda6, giving all drivers a bigger picture when backing up their vehicle. A standard rearview backup camera can be found on the 2016 Mazda6 Sport (starting at $22,995) trim level in the automatic transmission version only.
Finally, the 2016 CX-5 Touring enjoys the same screen size upgrade found in the 2016 Mazda6, so drivers have a clearer view of what's behind them. You can find a standard rearview backup camera in the 2016 CX-5 Touring trim level starting at $25,215.
The best part about all three of these Mazda models is that they also come with standard Blind Spot Monitoring at the trim levels listed which offers even better awareness while on the road.
If you are considering a new Mazda or a pre-owned vehicle, schedule an appointment today with one of our Mazda Experts who can help find the perfect vehicle for your needs and budget.